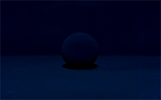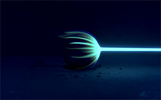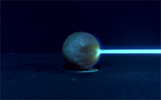 BLACK LIGHT WHITE LIGHT ABSOLUTE ZERO

In the photographic series "Black Light, White Light, Absolute Zero," (1977-1978), a solid steel sphere was frozen in liquid nitrogen.

In theory, when cooled to absolute zero, (the point at which all movement stops), light will also cease to be emitted. Slowly the sphere was heated and the process was photographed.

A heated object gives off its own light due to excited molecular activity. According to Kodak, the color temperature rating for artificial light of the film is 3200 degrees Kelvin. This is based on heating an object (or filament) to white heat to arrive at the color white.