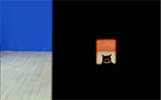 ADDITIVE SUBTRACTIVE SERIES
"Additive/Subtractive" is a series of twenty-one "Cibachrome" photographs completed in 1980 (and 42 other "C-prints" of cats and fish) that compare the two kinds of color characteristics (light primaries; red green and blue-violet and pigment primaries; red, yellow, blue) set in the framework of a third system, that of the golden section.

These three elements are the rational means, which make up the structure of each photograph. As a metaphor for the irrationality of their creator, Hondrogen juxtaposes a cat, sometimes in motion, sometimes fixed, always unpredictable.

"Additive/Subtractive" questions photography as a viable means of reproducing reality and the photographic reproduction of painting as a substitute for the painting itself."
Van Deren Coke, Director of the Department of Photography. Publication for one- person exhibition. San Francisco Museum of Modern Art .


For more on this series also see:
Installations- Centre d'Art Contemporaine, Geneva or
Past Work- Additive/Subractive