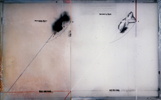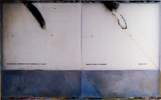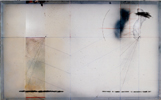 NYLON WORKS, a series of 24 paintings, came out of the "Extension" and "Ghost Image" series, as an attempt to find a way of connecting painting and photography.

These are done on nylon and large custom welded tubular stretchers with no central support bars, set in the Golden Section format.

Luminosity is created both by the translucent properties of the ripstop nylon, (which absorbs and reflects the white wall in back of it) and the paint, sprayed in washes of varying densities.

Language is an important part of these paintings, and is used as a signifier which in many cases is obliterated and completely indecipherable.